An agency in the mountains
Working with us is not what you expect
Developing, drawing, formatting, writing, communicating in an agency at the foot of the Dolomites – so what? Well, the air is better, there is little stress and you can admire larches, Swiss pines, and Norway spruces during your time off. Not bad, right?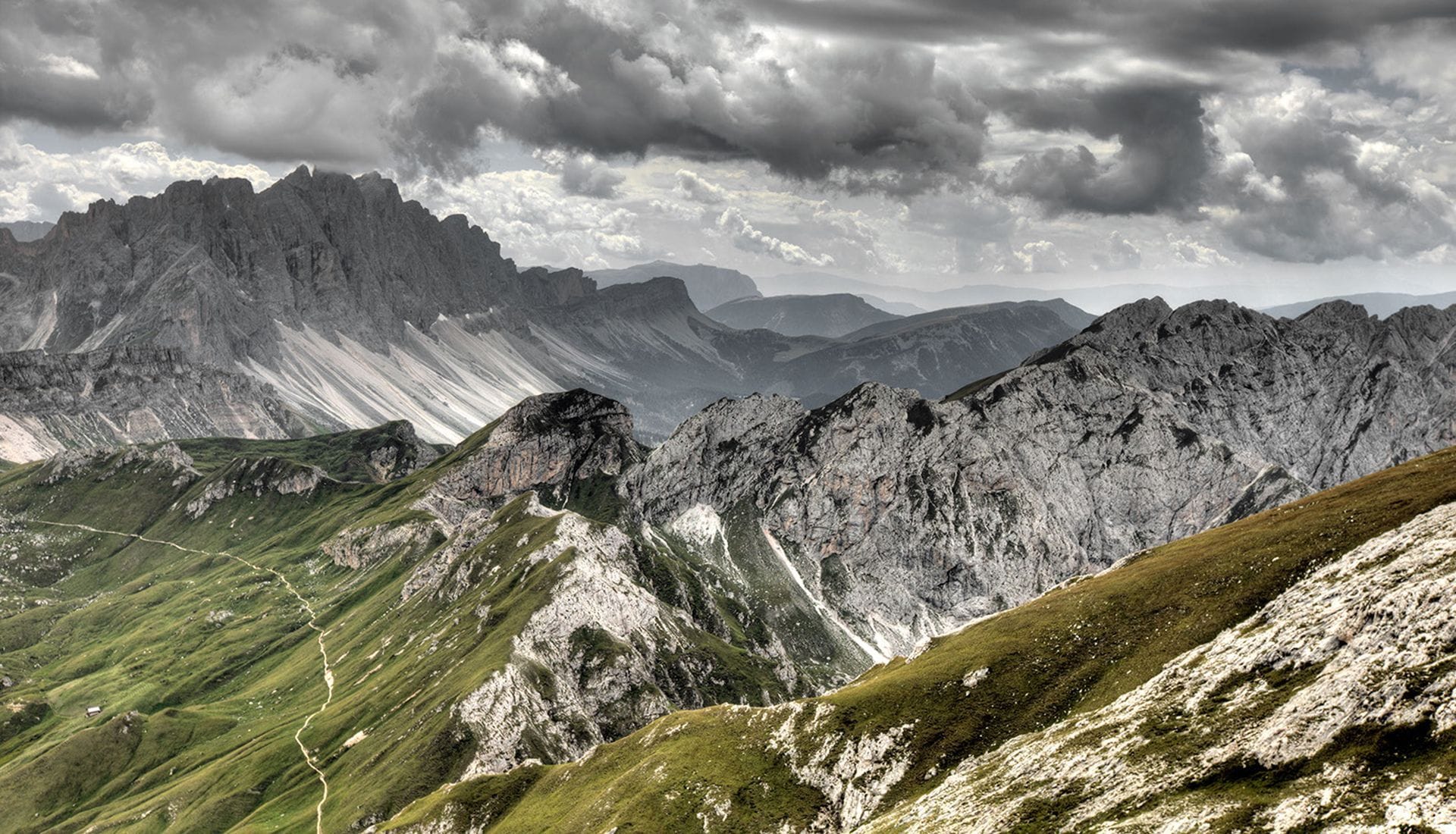 Random thoughts
Big cities, urban style, hubbub, life experience, success, career. Pretty thoughts… to then land in a chaotic, polluted place, starving for free time, pumping iron at the gym, queuing hours for a sandwich; and let us not even speak about parking spaces during rush hour, when even the subway and buses are chock-a-block. The summers are too hot, and winters are cold and humid, and and and how on earth did I land here?
A good alternative
Right, how did you land there? We are in the heart of Val Badia, one hour and a half from Bolzano, connected to the rest of the world by high-speed trains. Venice, Verona, Bologna, Milan, Munich, and Innsbruck are just around the corner! And we have plenty of fun as it is, with our walking trails, mountain bike passes, winter skiing slopes, the scudding clouds and the Dolomites, bathed in a soft, pink light by the setting sun. In Ladin we say 'ci bel' – a translation is superfluous, cause all you have to do is look at what we have.
We're looking for:
UX/UI & Graphic designer Full-time or part-time, San Martino in Badia
The company
Bad communication leaves a sour taste in your mouth, whereas good communication electrifies and energises you. Good and effective communication is clear and visible – Studio Puls helps develop ideas to make them unforgettable. We take your brand on a journey it has never experienced by analysing and brainstorming ideas, marrying strategy and creativity based on our ten-year experience.
Our team's designers puls(e) with energy and have a passion for aesthetics and life – nothing is better than seeing your project come to life across all touchpoints.
Our greatest satisfaction? The success of a brand as a result of our strategic communication.
The candidate
We're looking for an UX/UI expert & Graphic Designer who is crazy about prototypes, user flows, and animation who shares our passion and can seamlessly puls(e) to the tune of the team's beats.
You'll support our programmers in developing different projects from the initial idea to its implementation.
You'll work closely with the branding team and interact with clients.
You'll develop sophisticated, exceptional digital brand design solutions and oversee their implementation with the rest of the team.
Communication with the team will occur in German or Italian.
Your qualifications
A Design degree. Professional experience in corporate design preferable.
Detailed knowledge of Adobe Creative Suite programmes and UX and UI processes. A keen, creative mind – with a portfolio to prove it.
A creative and complementary approach to implementing Brand Identities. Problem solver.
Team worker, decisive, flexible, resilient, an eye for detail and aesthetics. Analytical and structured approach.
What we appreciate
Leadership and mentoring experience in a multidisciplinary team. Interest in fashion and lifestyle.
Being able to oversee a multi-product development system.
Committed to CPD.
Excellent communicator and openness when working with designers, brand strategists and company managers.
Our offer
The chance to shape and develop corporate products.
An inclusive workplace.
Career progression.
Teaching and development opportunities.
Annual salary revision.
Annual leave.
Our kitchen and liquid gold – our coffee machine.
Additional information
Workplace: San Martino in Badia (BZ) Easy to reach from: Innsbruck (2 hours) - Venice (3 hours) - Verona (3 hours) - Munich (3.5 hours) - Milan (4.5 hours) We offer flexible working hours and hybrid working possibilities, a garden for meetings and:
interesting and diverse projects;
tailored development programmes;
a homey, positive working environment.
Want to puls(e) with us? Show us what you're made of. Send us your application, salary expectations, and when you could start working with us to you@studiopuls.it
Give us a call at +39 0474 523 183 if you've got any questions.
We cannot wait to meet you!
Roll up your sleeves!
If you want to see how it all works, come and visit us. Working here can be an unexpected surprise. All you have to do is answer our questions. Bëgngnü.